Blog
details for "Moods, Atmosphere and Composition with Faith Robertson September 24, 25"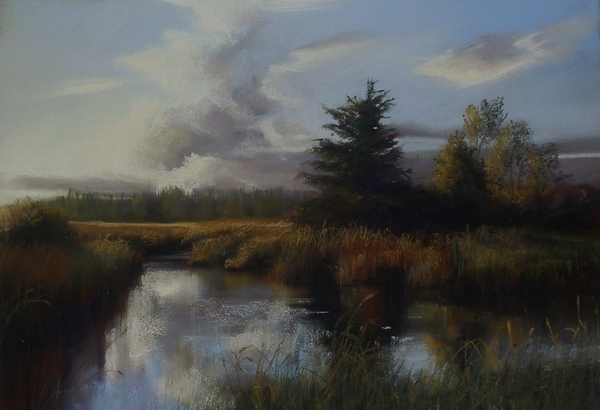 Hours: 9:30-4:30
Moods, Atmosphere and Composition: Seascapes/Lanscapes:
Faith has 25 years of teaching experience, instructing adults as well as children. Painting in watercolour, pastel and oil, her work has been entered and won awards in local, provincial, international and juried shows. Education in the field of design and the study of art history at Mount Royal College in Calgary translates into a strong awareness of composition in her work.
Using photos and abstract pure design in thumbnails the class will plan at least 3 paintings in a 2 day workshop and complete the pieces in that time. By applying the elements and principles of design to the resource material before we begin to paint, we can be more relaxed about the application of our medium. I plan to try several different approaches to organizing our thoughts into comprehensive designs so that we see the material not as a certain subject but as an exercise in design.
The second part of the planning process is to discuss the subject and how the very nature of the subject relates to design. For instance, is the subject interesting in and of itself, such as a close up study, or is the subject a calm sea that provides an almost mirror reflection of what else is going on? How do we fit these things into a dynamic and valid design composition? How does a more interpretive approach fir into preplanning? We will try and answer these questions in the workshop.
Bring your photo references or if you prefer you can use the ones supplied in class.
Supply list:
Photo reference
Paper: At least 140lb. (suggesting Arches, Winsor Newton or Fabriano) cold press 1 sheet
Brushes: 3 minimum--at least a 1" flat, #6 or #7 round and a rigger (liner) brush
Masking fluid
Pencil: soft pencil 2B or higher
Eraser: soft kneaded eraser is good but a white one is also ok
rags and paper towels
Paint: Winsor (or thalo blue), French ultramarine, indigo, permanent rose, gamboge yellow, hansa yellow light, burnt sienna. These colours are suggestions, not absolutely vital. If there are other colours you prefer, bring them. What is important is having a good mix of warm and cool in primary colours.
Salt: different sizes
Spray bottle: Try to get one that doesn't have too fine a spray. We want droplets, not puddles. I will bring other materials that can be used to good effect in experimental applications.
Course Cost & Status
CAN$147.00
CAN$183.75 with Non-Member Fee
older blog items...